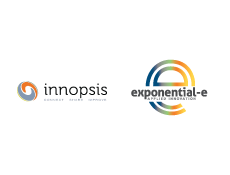 One of the world's largest organisations are moving from a paper and fax based information structure to an end to end digital environment. The NHS is in the top five organisations in the world, alongside the Chinese Army and all the variations of MacDonalds around the globe. Therefore, moving this enormous organisation into the digital world is not an easy or quick task.
Starting the transformation is the opening up of the underlying data network. For the last 16 years, a single organisation has provided a network based on the requirements of the pre-modernisation environment. For the last year, the N3 network is being migrated to the new Health and Social Care Network (HSCN) built by co-operating suppliers in a competitive market. Not only has substantial saving been achieved, the infrastructure to build the new world of care has been upgraded and made more flexible to cope with the changes required.
One of the organisations that has helped in this migration, Exponential-e, is now looking to help NHS, the patients and health suppliers to increase efficiency and reap the rewards of the change.
However, with the fast moving digitisation of health services, are we leaving behind some of the more vulnerable members of our society? The ones with the greatest need of Care? What can we do to make sure the new applications can benefit the old and the less able as well as the young and capable.
In this podcast, Lynne Magennis talks to Afshin Attari, the Public Sector Director at Exponential-e about these issues.
Afshin and Exponential-e will be at the Public Sector Network Summit being held in London and Leeds in September 2019 and at digitech19 in Manchester in November so if you would like to hear more, please drop by their stand.
Innopsis are the trade association for suppliers of digital infrastructure and services to the UK public sector and will also be exhibiting at all three events.
https://www.publicsectorconnect.org/wp-content/uploads/2019/07/Innopsis-and-Exponential-e-News.png
175
230
Public Sector Connect
https://www.publicsectorconnect.org/wp-content/uploads/2019/03/public-sector-logo-untitled-1-6.png
Public Sector Connect
2019-07-10 10:55:28
2019-07-10 10:56:52
Digitising the Health Service